Good Bears of the World
Ken and Brenda are life members of Good Bears of The World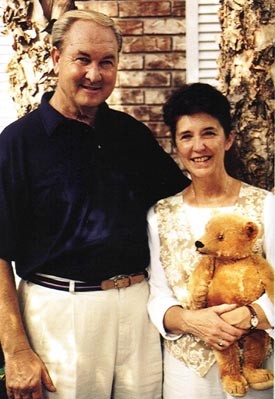 For over twenty years Ken has been the preferred appraiser for Good Bear of the World. Whenever a member, worldwide, requests information or identification help, the mail is forwarded to him. He speaks to countless bear clubs, senior citizens groups, antique clubs and libraries. Ken has been instrumental in raising funds to buy bears for distribution to hospitals and to open toy museums. In addition to numerous articles he has also written three books: Teddy Bear Treasury Vol. 1 (sold out) and Vol. 2, and Bing Bears and Toys. American Greeting Corporation has featured many of Ken and Brenda's bears in their 2000 calendar and plan to add others to their coming calendars. Bears from their vintage collection have been featured on American Greeting's gift-wrap and Valentines.
Ken is the writer of a popular newspaper column on Antiques published in the Cleveland Sun Newspapers, feature articles in Teddy Bear Review and Bears&Buds' Online Teddy Bear Magazine and appears at many of Bright Star Promotions' Teddy Bear Shows as well as some other leading show, where he appraises collector's bears and antiques. All appraisal donations benefit Good Bears of the World.
"It seems a lifetime ago," Ken says, "that I was in the Air Force, attended Butler University and began working on my career." Married for 45 years he and Brenda have five children and share their home with hundreds of very interesting old bears. "I always look forward to helping others discover more about their teddy bears." Ken continues, "Teddy bears continue to be great contributors to the human experience."